Bernie Wrightson HOUSE OF MYSTERY 217 COVER ART 1973 Mixed Media Stunning! Swamp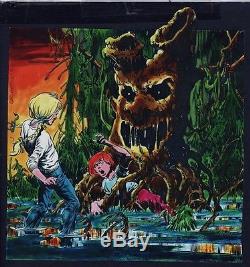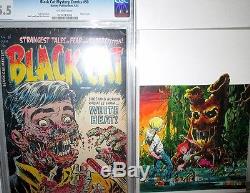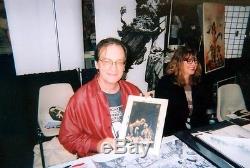 Original Hand-Colored Art To A Historic Wrightson Evil Swamp Tree Cover From 1973. HOUSE OF MYSTERY #217, ACTUAL Color Art, Painted By Wrightson, Before The Upper Masthead Was Added. Confirming This Was A Work-In-Progress, Not Just A Proof! FANTASTIC PAINT WORK By BERNI WRIGHTSON (MIXED MEDIA). This is for DC COMICS, FROM 1973. Pencils NOT Included, Perhaps Lost To Posterity? This version painted by the legendary king of swamp-scene settings such as this is so beautifully rendered, it makes the published version look bland and almost monochromatic, when this one has such a diverse color palette. Usually the color work would have been done by Jack Adler, but on occasion, Bernie would handle it himself, and in a conversation several years back we spoke of this particular cover and he confirmed that this one he did himself. Note, the work beneath the colors is a black & white proof, so this does. Include original line art by Bernie, but all the wonderful paint work, with incredible attention to detail, was done by the legendary Wrightson, to be affixed to the stat with the upper masthead and then serve as the color guide.
I took one picture of it standing next to a random horror comic for scale, and I also included a picture I took of Bernie displaying another of his paintings, from this same time period and source, for me and some other adoring fans. Bernie Wrightson is a household name, especially among horror fans, thanks in large part to his macabre covers for titles such as House of Secrets and Swamp Thing, plus his illustations for such books as Frankenstein and Cycle of the Werewolf, and his depictions of the hideous monstrosities and foreboding nightmares and swampy critters, such as this. And when do you ever get a chance at something by the renowned icon of this haunting genre from the same years the early issues of his fabled Swamp Thing series were coming out in the early seventies? In this exceptional early effort, Wrightson's mastery is crystal clear.
With all the moodiness and color variations and shading and intricate details that Wrightson fans crave, this showpiece. Original Colors To A Legendary Classic Bronze-Horror Cover!
Memorable cover by the beloved master of the macabre. May he rest in peace. His legacy is well earned, and he always remained humble, almost as if he didn't realize the extent of his influence and the awe-inspiring prowess he so readily displayed.
This series has always appealed to fans of the supernatural comics as well as fans of monsters and the occult, and it was actually the very first and longest-lived horror title by DC Comics. These days, chances to get original early Bronze-age cover work by this top talent is becoming a once-in-a-lifetime opportunity. Berni Wrightson was one of the greats, but he had relatively limited output in non-Swamp Thing comics during the early seventies and much of his art is already tied up in collections and out of reach price-wise for most fans, and rare examples of his work in such iconic titles are likely to continue to gain popularity and interest.
Beautiful Clean Full Color Art To The Riveting "Evil Groot" Cover, One Well-Remembered By Countless Fans Who Recall The Silver-Age And Bronze-Age Horror And Occult Titles. THIS IS THE ORIGINAL PAINTED ART, WHICH BOASTS A COLORFUL SUNSET BACKGROUND, COMPARED TO THE PLAIN GREENISH SKY OF THE SO-SO PUBLISHED VERSION. THE VINES AND ROOTS ON THIS JAW-DROPPER LOOK ALMOST ALIVE, AND THEY SURE LOST A LOT IN THE TRANSITION TO THE PRINTED COVER, UNFORTUNATELY FOR READERS.
ONLY THE OWNER OF THIS SPECTACULAR PAINTING WILL GET TO GAZE AT THIS SPECTACULAR COVER AS IT WAS TRULY INTENDED TO LOOK BY MR. WRIGHTSON HIMSELF, EVEN THE SCAN AND PICTURE I TOOK DON'T DO IT JUSTICE! This is one of those pieces that is simply epic without the logo and other jargon, making it a superb stand-alone piece to frame and display.
PLUS, A CERTIFICATE OF AUTHENTICITY FROM THE FAMOUS JACK ADLER COLLECTION. GREAT COMIC-BOOK ART IS DIFFICULT TO OBTAIN! Great detail work, with quality renditions of the ominous swamp creature and terrified youths, and the color variations are impressive!
THE SUBTLETIES ARE LUSH, WITH THE MULTI-COLORED ENHANCEMENTS GIVING MORE DEPTH AND DIMENSION THAN SEEN ON ANY PRINTED VERSION. The originals to famous issues like this are notoriously tough to get, and once one sells, it can be out of the market for decades. THIS ARTWORK IS SUPPLE AND CLEAN AND WELL PRESERVED, IT LOOKS LIKE IT HAS BARELY AGED A DAY. This original piece of comic illustration art would be a great addition to the collection of any fan of the unique original artwork to vintage comics. This is the ORIGINAL PAINTED COMIC ART, which has an overall size of 7" x 7.5", and all of it is image area.
A conversation piece of the highest order, you'll want to have this archivally framed and displayed prominently. The actual one-off painting was created by BERNIE WRIGHTSON in 1973 for DC Comics to produce the iconic cover. This striking artwork is a hand colored showpiece; NOT a tribute or homage or recreation, THIS IS THE ORIGINAL PAINTS BY WRIGHTSON, THIS HAS WATERCOLOR AND SOME ORIGINAL INK WORK APPLIED, (and incredible broad pallette, much more awe-inspiring than the printed versions), It IS the original paints, it's over the original publisher's stat of the pencil art, so the original pencil art is not included, but all of the phenomenal color work you see is DONE BY HAND in 1973.
Bernie Wrightson courteously explained to me (and some other fans) as we discussed this original art piece and the ones he did for Weird (100-Page Super-Spectacular #4) and House of Secrets #92 at length, that most of the time, his comic cover depictions would have been only colored by the vaunted Jack Adler, but because he had a very specific vision for those covers he elected to handle the coloring aspect of it himself, hence the fact that he painted a unique piece, this one looks much more amazing than the mass-produced version that's so beloved by fans! This is one-of-a-kind material which would be a great acquisition for any fan of the old supernatural comics or books, graphic novels and magazines. Many of you have dealt with us through our ads in CBM, CBG, O. We are secure packagers and prompt shippers so expect to be pleased. This irreplaceable group is the only one of its kind... Great item for the serious horror ephemera buff, or just the Wrightson art investor or bronze-horror fan who enjoys owning true rarities to keep himself satisfied visually, while keeping his portfolio diversified in a most impressive fashion!
As Usual: LOW ASKING PRICE AND NO RESERVE! KEY COMICS IS ALWAYS DEALING IN COMICS & ART! Good Luck and Happy Collecting! The item "Bernie Wrightson HOUSE OF MYSTERY 217 COVER ART 1973 Mixed Media Stunning! Swamp" is in sale since Wednesday, March 29, 2017.
This item is in the category "Collectibles\Comics\Original Comic Art\Covers". The seller is "keycomics" and is located in Mesa, Arizona. This item can be shipped worldwide.
VINTAGE COMIC-ART: ORIGINAL HAND COLORED COVER ART BY WRIGHTSON