Bernie Wrightson ORIGINAL SWAMP THING ZOMBIE PAINTING 12 x 18 FPG Card Set Art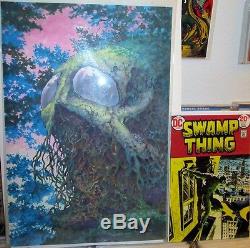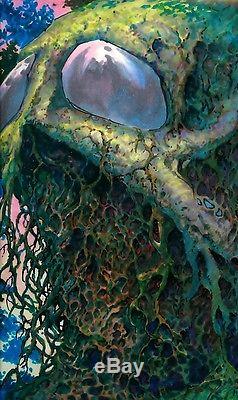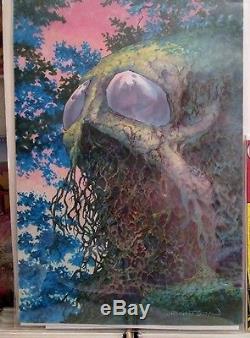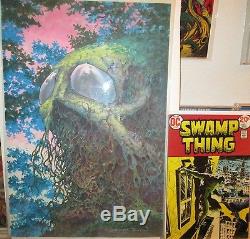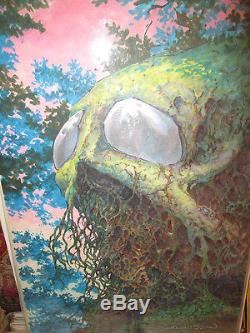 Original FPG Trading Card Art To A Stellar Swamp Thing Emergence By Bernie Wrightson. SWAMP ZOMBIE, FOR ANY FAN OF SWAMP THING OR WALKING DEAD, THIS UNDEAD GHOUL OF THE SWAMP IS ILLUSTRATED BY NONE OTHER THAN THE MASTER OF THE MACABRE HIMSELF, THE CREATOR OF SWAMP THING, THE LIVING LEGEND BERNI WRIGHTSON. ALL ORIGINAL, NO STATS OR PHOTOCOPIES, THIS IS PURE ORIGINAL ART, AND IT'S A FANTASTIC ILLUSTRATION USED TO CREATE A TRADING CARD FOR THE FIRST SET OF BERNIE WRIGHTSON MASTER OF THE MACABRE COLLECTOR CARDS IN 1993. THE SWIRL MARKS AND HAZE AND SOFTNESS YOU SEE IN THE ITEM'S PICTURES IS ALL FROM THE PROTECTIVE MYLAR HOLDER THAT THE ART IS PRESERVED WITHIN, BUT IN PERSON YOU CAN SEE THAT THE DETAIL WORK IS INCREDIBLE AND IT'S ALL VERY SHARP AND ORNATE, NOT FUZZY AND SUBDUED AND GRAINY LIKE IN THE DISAPPOINTING IMAGES SHOWN HERE WITH THE LISTING.
The pictures were taken through a heavy archival Mylar art sleeve which will remain with the art for the lucky new owner, but keeping it in the costly sleeve for the photographs made my pictures look lame, especially compared to viewing it in person; this museum piece is awe-inspiring! Note, on Bernie's website now, he has shirts, mugs, mouse-pads, and other goodies emblazed with this iconic "Swamp Zombie" creature, so support this true innovator of the horror genre if you're a fellow fan they're all black & white, while this one'glows' with color, literally, in the pinks, when a blacklight is nearby! Bernie Wrightson is a household name, especially among horror fans, thanks in large part to his terrifying covers for titles such as House of Secrets and Swamp Thing, plus his renowned illustations for such books as Frankenstein and Cycle of the Werewolf, and his paintings of the hideous monstrosities of foreboding nightmares, such as this. Only very rarely do you get a chance at something from the master of this haunting genre, of. Posterized quality, featuring his fabled Swamp Thing character, so don't take this opportunity lightly as it may not come around again.
In this exceptional effort, Wrightson's mastery is crystal clear. The moodiness and the shading and intricate details that Wrightson fans crave, this showpiece. Original Art Piece, Signed By Wrightson, -- Living Dead Swampy! This creature has always appealed to fans of the supernatural comics, and also to collectors of superhero comics, as well as fans of "Mother Nature" and conservation and preservation of the Earth and ecology, plus fans of werewolves, mummies, Walking Dead zombies, and other monsters.
Berni Wrightson is one of the greats, but he had relatively limited output in non-Swampy comics and much of his art is already tied up in collections and out of reach price-wise for most fans, and rare examples of his works in such iconic titles are likely to continue to gain popularity and interest. Beautiful Clean Full Color Art To An Exciting Swamp Thing Rising From The Dead Scene, Call It Swamp Walker, Call It Swampy-Dead, But Don't MISS It! Epic Anti-Hero, One Well-Remembered By Countless Fans Who Recall The Silver-Age And Bronze-Age Horror And Occult Titles. THIS IS THE ORIGINAL ART TO A COOL TRADING CARD FROM BERNIE'S FIRST NON-SPORT SET IN THE EARLY NINETIES, AND WOULD BE A HIGHLIGHT OF MOST ANY WRIGHTSON FAN'S ART COLLECTION! This is one of those pieces that is simply epic, with no logo or jargon, making it a superb stand-alone piece to frame and display. Great detail work, with a very high quality rendition of the ominous character rising up from the murky bog, and the color variations are impressive! THE SUBTLETIES ARE LUSH, WITH THE MULTI-COLORED ENHANCEMENTS GIVING MORE DEPTH AND DIMENSION THAN SEEN ON ANY PRINTED VERSION.
The originals like this are notoriously tough to get, and once one sells, it can be out of the market for decades. Any comic-art fan will want to see our other current auctions, featuring dozens of pieces, including vintage cover production art. THIS ARTWORK IS BRIGHT AND SUPPLE AND CLEAN AND WELL PRESERVED, IT LOOKS LIKE IT HAS BARELY AGED A DAY. A conversation piece of the highest order, you'll want to have this archivally framed and displayed prominently. The actual one-off painting was created by BERNIE WRIGHTSON; NOT a tribute or homage or recreation, THIS IS THE ORIGINAL MIXED MEDIA ARTWORK, Wrightson's original masterpiece which leaves the viewer transfixed, and wanting to view at different angles and from different light sources!
This is one-of-a-kind material which would be a great acquisition for any fan of the old supernatural comics or sci-fi cards, portfolios, lithographs, books, graphic novels and magazines. Many of you have dealt with us through our ads in CBM, CBG, O. We are secure packagers and prompt shippers so expect to be pleased. This irreplaceable piece is the only one of its kind...
Great item for the serious horror ephemera buff, or just the Wrightson art investor or zombie memorabilia fan who enjoys owning true rarities to keep himself satisfied visually, while keeping his portfolio diversified in a most impressive fashion! As Usual: LOW ASKING PRICE AND NO RESERVE! KEY COMICS IS ALWAYS DEALING IN COMICS & ART! For more samples from our diverse inventory, including CGC-Graded Comics, plus more Comic Line Art, and DC COVER ART from the historic Jack Adler Collection that we listed in assorted categories, please see our other auctions.
Good Luck and Happy Collecting! The item "Bernie Wrightson ORIGINAL SWAMP THING ZOMBIE PAINTING 12 x 18 FPG Card Set Art" is in sale since Friday, August 28, 2015. This item is in the category "Collectibles\Comics\Original Comic Art\Covers".
The seller is "keycomics" and is located in Mesa, Arizona. This item can be shipped worldwide.
VINTAGE COMIC-ART: ORIGINAL PAINTING BY WRIGHTSON