Bernie Wrightson PUNISHER 3 GORY BONDAGE ORIGINAL ART Signed Marvel Page B/W `99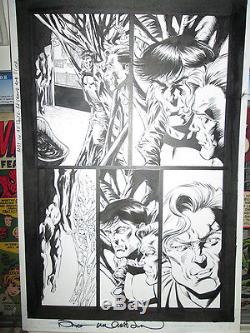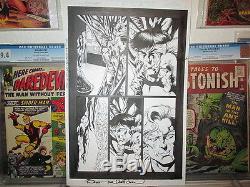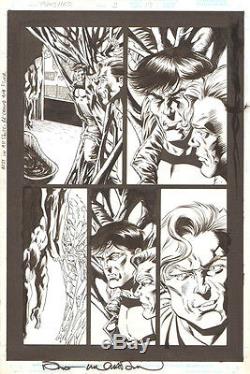 Original Wrightson Art To A Punisher #3 Page From 1999. PUNISHER Issue #3, Page #19, The Original Page Art By BERNI WRIGHTSON (PENCILS) and JIMMY PALMIOTTI (INKS). This features FOUR large images of the vigilante hero known as The Punisher in bondage no less! And is for MARVEL COMICS For Their Mature Marvel Knights Series, size is 11" x 17.25", on standard Marvel comic-book original art paper. This one has Punisher bound up, next to a couple lynched nude dead bodies that are hung up in brutal fashion so the blood can drain into the bathtub!
Autographed by Wrightson at bottom. Bernie Wrightson is a household name, especially among Punisher and horror fans, thanks in large part to his macabre covers for titles such as Swamp Thing, House of Secrets and House of Mystery, and his depictions of the Punisher and Dark Knight in moody ominous settings such as this!
In this lovely page, with gory dangling blood-dripping cadavers, Mr. Wrightson's mastery of the macabre is crystal clear. Classic close-ups and attentive depictions in this well-rendered posterized panel page, including the expressions and morbid imagery along with the shading and intricate details that Wrightson fans crave, this showpiece. Original Pencils and Inks To A Gruesome Punisher-In-Bondage Page! This series has always appealed to fans of the superhero comics, as well as fans of the gritty anti-hero Frank Castle.
As well as those who like to see pages by the artist that is one of the most well-remembered of those doing modern work on the character. Keep in mind, Wrightson is one of the greats, but he had relatively limited output in the superhero genre and much of his art is already tied up in collections and out of reach for most fans, and rare examples of his works in such iconic titles are likely to continue to gain popularity and interest. Beautiful Clean Line Art To An Exciting Early Issue, One Well-Remembered By Countless Fans Who Remember The Nineties. THIS IS THE ORIGINAL LINE ART TO THE FIRST PRINT MARVEL KNIGHTS COMIC! This is one of those pieces you can enjoy immensely without having to read any word balloons or see any of the surrounding pages, making it a superb stand-alone piece to frame and display.
This page features tremendous dynamic imagery. PLUS, ORIGINAL COMIC ART IS HUGE, SEE OUR PICTURES, ONE SHOWS IT WITH COMICS FOR SCALE. GREAT COMIC-BOOK ART IS DIFFICULT TO OBTAIN! Great detail work, with quality renditions of the characters and the haunting dark and gore-laden corpses, and the tightness of the inks is impressive!
EACH PANEL IS LUSH, WITH THE INKED ENHANCEMENTS GIVING MORE DEPTH AND DIMENSION. The originals to famous issues like this are notoriously tough to get, and once one sells, it can be out of the market for decades. THIS ARTWORK IS SUPPLE AND CLEAN AND WELL PRESERVED, IT LOOKS LIKE IT HAS BARELY AGED A DAY. This original piece of comic illustration art would be a great addition to the collection of any fan of the unique original artwork to vintage comics. This is the ORIGINAL COMIC ART, which is far bigger in size than a comic book or a magazine, so you can imagine that each individual character is substantial.
A conversation piece of the highest order, you'll want to have this one framed and displayed prominently. Much too large for our scanner, this jaw-dropper is almost a foot wide and well over a foot tall, so I took amediocre low-res pictures with the digital camera.
I included a picture showing the art alongside a couple random comic-books for size reference. The digital pictures make the piece appear dull and drab and shadowy, when in reality it is clean and white, and especially striking in person. This actual one-off item was created by BERNIE WRIGHTSON in 1999 for Marvel Comics to produce the entertaining gory superhero story. This gorgeous showpiece is the original, none of it is mere "stats" or photocopies, -- it is especially striking since the inking was done to high standards, so it really emphasizes the high-impact images.
This is one-of-a-kind material which would be a great acquisition for any fan of the old superhero comics or books, graphic novels and magazines. Many of you have dealt with us through our ads in CBM, CBG, O. We are secure packagers and prompt shippers so expect to be pleased. This irreplaceable item is the only one of its kind...
Great item for the serious Marvel ephemera buff, or just the seasoned art investor or Punisher memorabilia fan who enjoys owning true rarities to keep himself satisfied visually, while keeping his portfolio diversified in a most impressive fashion! As Usual: LOW ASKING PRICE AND NO RESERVE! SATISFACTION GUARANTEED 14-day return privilege. KEY COMICS IS ALWAYS DEALING IN COMICS & ART! For more samples from our diverse inventory, including CGC-Graded Comics, plus more Comic Line Art, and DC COVER ART from the historic Jack Adler Collection that we listed in assorted categories, please see our other auctions. Good Luck and Happy Collecting! The item "Bernie Wrightson PUNISHER 3 GORY BONDAGE ORIGINAL ART Signed Marvel Page B/W `99" is in sale since Wednesday, January 07, 2015. This item is in the category "Collectibles\Comics\Original Comic Art\Other Original Comic Art". The seller is "keycomics" and is located in Mesa, Arizona.
This item can be shipped worldwide.
Type: Original Comic Art
Publisher: Marvel Comics
Genre: Superhero
ORIGINAL PENCILS AND INKS: AUTOGRAPHED BY ARTIST, PUBLISHED LINE ART