Jack Kirby ORIGINAL ART Captain America vs Evil Mutants PAGE X-Men Massacre 1977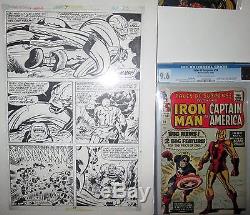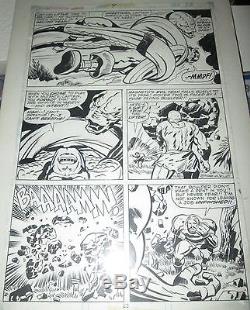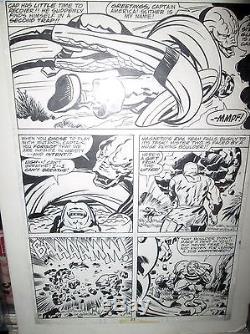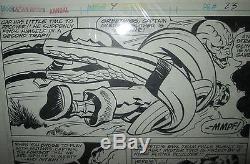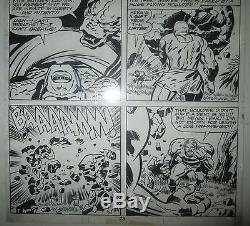 Original Art To A Famous Marvel Superhero Crossover Page From 1977. Captain America (the Original Long-Running Silver/Bronze-Age Series) Annual #4, Page #23, By Jack "King" Kirby, Featuring CAPTAIN AMERICA IN ALL-OUT BATTLE AGAINST THE BROTHERHOOD OF EVIL MUTANTS! THIS THRILLING SCENE WAS EVEN FEATURED ON THE FRONT COVER OF THE HISTORIC COMIC IN 1977, WITH EVIL MUTANT "SLITHER" WRAPPED AROUND CAP, TO CONSTRICT HIM TO DEATH!
THIS IS FROM THE FAMOUS STORY TITLED THE GREAT MUTANT MASSACRE! , PITTING CAP AGAINST MAGNETO AND HIS MUTANT CRONIES. THIS WOULD BE A TREMENDOUS ACQUISITION FOR ANY FAN OF THE X-MEN AND EVIL MUTANTS OR OF CAPTAIN AMERICA AND THE AVENGERS! NOT TO MENTION ANY FAN OF THE KING, AT THE TOP OF HIS GAME, DRAWING THE LEGENDARY CHARACTER WITH WHICH HE IS PERHAPS MOST ASSOCIATED WITH! The big top panel has more cool heroes than most pages you'll see.
Classic poses and attentive depictions in these well-rendered panels, including the ones with Lifter, throwing the boulder which explodes on impact as only Kirby could convey, this showpiece. Original Pencils and Inks To A Seventies Superhero Crossover Page! This series has always appealed to fans of the Avengers, and this one has major cross-over appeal, especially with X-Men fans.
Beautiful Published Line Art To An Exciting Tale From The Legendary Artist Himself, Beloved By Golden-Age, Silver-Age, and Bronze-Age Comic-Fans Alike. KIRBY AT HIS BEST, It Is A Masterpiece. This is one of those pieces you can enjoy immensely without having to read any of the surrounding pages, making it a superb stand-alone piece to frame and display. This page features tremendous dynamic imagery. PLUS, ORIGINAL COMIC ART IS WAY LARGER THAN A MERE COMIC!
Great detail work, with quality renditions of the characters, and the tightness of the inks is impressive! EACH PANEL IS LUSH, WITH THE COSTUMES PERFECTLY DETAILED. The Jack Kirby originals to popular crossover issues of this influential long-lived superhero series are notoriously tough to get, and once one sells, it can be out of the market for decades. Any comic-art fan will want to see our other current offering, featuring dozens of pieces, including vintage cover production art. THIS ARTWORK IS SUPPLE AND CLEAN AND WELL PRESERVED, PLEASE SEE THE INCLUDED PICTURES.
This original piece of comic illustration art would be a great addition to the collection of any fan of the unique original artwork to vintage comics. This is the ORIGINAL COMIC ART, which is far bigger in size than a comic book or a magazine. A whopping 10.5" by 16", and almost all of it's image-area, so you can imagine that every individual figure is substantial.
A conversation piece of the highest order, you'll want to have this one framed and displayed prominently. Much too large for our scanner, this jaw-dropper is almost a foot wide and over a foot tall, so I took a some pictures with the digital camera. One photograph shows the art alongside a comic for scale. The digital pictures make the piece appear dull and drab, as it was photographed through the protective film (easily removed, for framing, should the next lucky owner desires). In person it is especially striking and in well-preserved shape.
This actual one-off item was created by JACK KIRBY in 1977 for MARVEL Comics to produce the entertaining story. This gorgeous showpiece is the original, not mere "stats" or photocopies, EVEN THE WORD BALLOONS AND TEXT IS ALL HAND DRAWN AND HAND-LETTERED, -- it is especially striking since the inking was done to high standards, so it really emphasizes the high-impact images. This is one-of-a-kind material which would be a great acquisition for any fan of the old superhero comics or books, graphic novels and magazines! Extra fresh, bright, and clean; It has obviously been well-preserved so far. It has the clipped corners at the top, as was common in the day.
Boasting lots of great details, this would be particularly impressive if it were framed and displayed, but it could also be stored for investment. Many of you have dealt with us through our ads in CBM, CBG, O. We are secure packagers and prompt shippers so expect to be pleased. This irreplaceable item is the only one of its kind... Great item for the serious Marvel superhero ephemera buff, or just the art investor or Xmen, Cap, or Avengers memorabilia fan who enjoys owning true rarities to keep himself or herself satisfied visually, while keeping his/her portfolio diversified in a most impressive fashion!
As Usual: LOW ASKING PRICE AND NO RESERVE! SATISFACTION GUARANTEED International Customers Welcome. KEY COMICS IS ALWAYS DEALING IN COMICS & ART!
For more samples from our diverse inventory, including CGC-Graded Comics, plus more Comic Line Art, and DC COVER ART from the historic Jack Adler Collection that we listed in assorted categories, please see our other items. Good Luck and Happy Collecting! The item "Jack Kirby ORIGINAL ART Captain America vs Evil Mutants PAGE X-Men Massacre 1977" is in sale since Wednesday, April 13, 2016. This item is in the category "Collectibles\Comics\Original Comic Art\Interior Pages". The seller is "keycomics" and is located in Mesa, Arizona.
This item can be shipped worldwide.
Published Original Comic-Art: Hand-Drawn, Pencil & Ink, On Bristol Board