Neal Adams DEADMAN ORIGINAL ART National Lampoon 1972 Pencil & Ink NICE PAGE B/W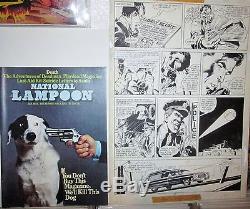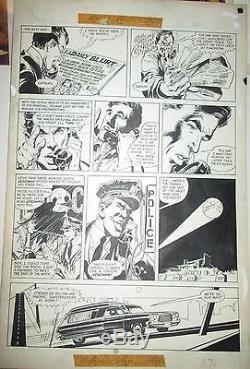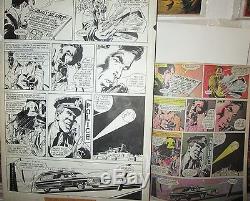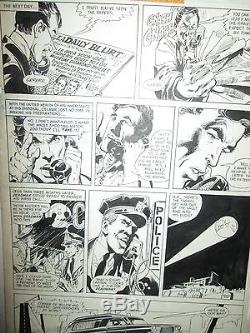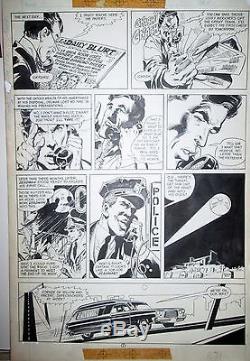 Original Art To A Deadman Comic Page! Original Pencils and Inks By The Living Legend: Neal Adams. The Old Comics & Satire Magazine That This Page Was Published In, Back In Late 1972, Is Ever-Popular And Increasingly Uncommon As It Is, But Nothing Is Rarer Than The Actual Penciled and Inked Page.
This Page Was Featured In National Lampoon Magazine #34, The "DEATH" Issue With The Iconic Dog Held Hostage Cover, Especially Appropriate Since This Story Centers Around Deadman, One Of The Deadest Heroes Ever, Right Down To The Ghastly Walking Dead-Like Pale Skin. National Lampoon regularly released thick best-of compilations over the years, so it's very possible this tale also appeared in a giant special issue, as it's hilarious humor and irreverence, throughout! THIS PAGE HAS THE ELEMENTS ANY ADAMS FAN CRAVES, AND IT'S'PEAK-PERIOD' ADAMS! I have read the other Neal Adams stories from National Lampoon, as well as his work for Marvel and DC Comics during this halcyon period, and this one is one of the more polished, certainly from the period where Adams was at the apex of his creative prowess.
This was the story published in the cult-classic Death issue over forty years ago, which was printed in full color, with the coloring handled by Jack Adler, and Mr. Adler is indeed the person that I acquired this artwork from, about a decade ago. Yep, this museum quality page has.
Never before reached the public arena. And it heralds from the famed Jack Adler Pedigree collection of comic-art, and will include a COA stating this historic provenance. This dynamic art measures approximately 14.5" x 19" and is in excellent condition.
Any fan would enjoy this clean crisp linework, with great attention to detail! THIS ARTWORK IS GORGEOUS, WITH NO STATS (besides a bit of text), AND NO PASTEOVERS OR STAINS! This is super white and clean, (obviously VERY well preserved) and would be a great addition to the collection of any collector of art, or for the devout Adams fan!
This is the ORIGINAL ART, which is about twice as big as an old comic book. Because it is far too large for a scanner, I took blurry low-res pictures with a digital camera. I included a photograph of the artwork next to the actual magazine it got published in, back in the early seventies, for scale, so that you can see how imposing this showpiece really is.
There is also a picture I took of the colorized version printed in the old satire mag. This listing is for ART ONLY, no comics or magazines are included. This museum piece is truly in fantastic condition. It's all hand drawn by the masterful Adams, and clean and sharp. There are some blue-line notations in the margins, as expected. The digital pictures make the piece appear fuzzy and dull and drab, when in reality it's supple and bright white and especially striking in person. A conversation piece of the highest order, this showpiece features cool art filling every amazing panel! ARTIST BIO: Neal Adams studied Industrial Arts in New York, and went to work as an advertising artist at the age of 19.
He started his comics career at the Newspaper Enterprise Association. For many years, he worked as an anonymous dailies artist, breathing life into series such as'Ben Casey','Peter Scratch','Rip Kirby', and'The Heart of Juliet Jones'. In the late sixties, Adams began to work at DC and Marvel comics. Ever since that time, he has made his mark with dynamic and unconventional superhero stories.
For DC, he has illustrated'The Spectre','Batman','Superman','El Diablo' and'Deadman', a character he gave a more human dimension. Among his most notable DC work is'Green Lantern'/'Green Arrow'. At Marvel, he also has enjoyed a celebrated history, illustrated'X-Men' beginning with issue #56, along with'The Inhumans','The Avengers' and'Conan the Barbarian', and more. Adams was also present in the magazines National Lampoon, Dracula Lives, Deadly Hands of Kung Fu, Eerie, and Creepy, as well as the fanzine Venture.
In the late seventies, Adams moved beyond the drawing board and began managing his art studios and publishing label, Continuity Associates. Continuity published titles like'Crazyman','Urth 4','Zero Patrol','Valeria','Cyberrad','Samurree' and'Revengers', and also made its name in the field of animation. In addition, he took over'Ms Mystic' at Pacific Comics in 1982, and produced the mini-series'Deathwatch 2000' for that same publisher eleven years later. He still remains a creative force in the hobby, and a popular draw for his countless fans at comic conventions around the nation. You really have to see this beauty in person to fully appreciate it.
These actual one-off art piece was used by National Lampoon in the early seventies to produce a full-color Deadman page of the famous "Death" issue of National Lampoon. They actually ran this one in color, which is something they only did for a occasional pages of the whole thick graphic novel, so this was a standout page of the death-themed issue, which featured some other top comic artists as well. This gorgeous item is the actual original pencils and inks, with even the text elements all drawn by hand.
This is one-of-a-kind material which would be a great acquisition for any collector of Deadman-ephemera or the zombie/cadaver fanatic, or just the fan of Nat-Lamp comics or unique pop culture ephemera! This would be particularly impressive if it were framed and displayed proudly, or it could be stored for investment. One cannot overstate the investment potential of such a piece. Early pages by the inimitable Adams are not at all common in the marketplace, although such work is highly sought by a large contingent of devoted fans.
His art as a whole has been rocketing in value for quite a few years now. Time payments are available on any item over a thousand dollars, so please inquire. Many of you have dealt with us through our ads in CBM, CBG, O. We are secure packagers and prompt shippers so expect to be pleased.
This irreplaceable item is the only one of its kind and has never hit the market, until now... This is a must-have piece for any fan of nice artwork, or just the knowledgable investor or Neal Adams fan who enjoys owning true rarities to keep himself satisfied visually, while keeping his portfolio diversified in a most dramatic fashion! As Usual: LOW ASKING PRICE AND NO RESERVE!
KEY COMICS IS ALWAYS DEALING IN COMICS & ART! For more samples from our diverse inventory, including old Comic-books and CGC-Graded Collector's Comics, plus more Comic-Book Line Art and DC COVER ART from the historic Jack Adler Collection that we listed in assorted categories, please see our other auctions. Good Luck and Happy Collecting! The item "Neal Adams DEADMAN ORIGINAL ART National Lampoon 1972 Pencil & Ink NICE PAGE B/W" is in sale since Tuesday, February 02, 2016. This item is in the category "Collectibles\Comics\Original Comic Art\Interior Pages". The seller is "keycomics" and is located in Mesa, Arizona. This item can be shipped worldwide.
ORIGINAL LINE ART: PENCILS AND INKS ON BRISTOL BOARD