Strange Tales #112 Original Art Larry Lieber Atomic Age Space Fantasy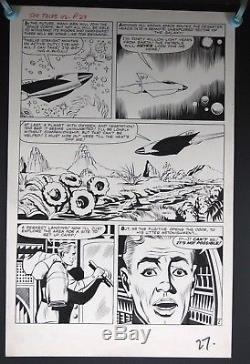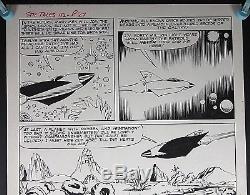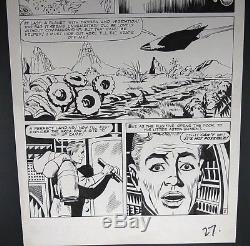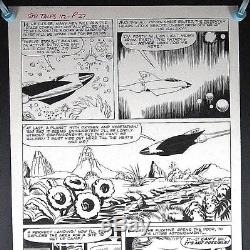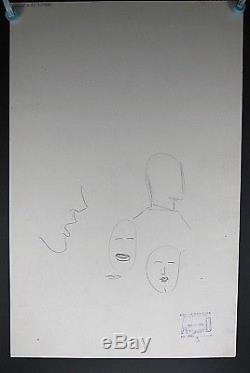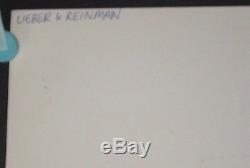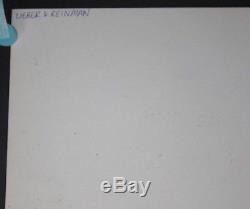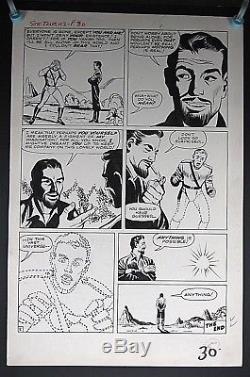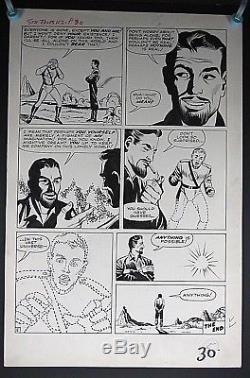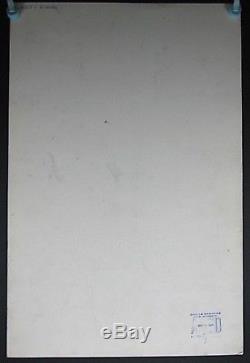 1 #112 Pages 27 & 30. Original Art - Larry Lieber. 1 #112, Pages 27 & 30. These are two original full size (Twice Up) pages which are numbered 27 & 30 in excellent condition and which measure 14 1/4" x 21 1/2" each.
Penciled by the great Larry Lieber (Stan Lee's brother) and Inked by the great Paul Reinman (Timely, Atlas, Marvel Artist who frequently inked Kirby's work including Incredible Hulk #1). Page 27 has multiple rough pencil sketches on the back and both pages have Leiber & Reinman names written and the signed Comics Code Authority Approval Stamp dated March 26, 1963. These two pages are numbered 27 & 30 of the Strange Tales #112 book but are the 2nd and 5th pages of a five page back story titled'I Saw the Impossible World! As you may know, Strange Tales (1951 - 1968) started off as a showcase/anthology for monster stories and the title switched over to superhero stories starting in issue #101 (1962).
However, for a short period after issue #101 the Sci-Fi and Monster themed stories were continued but only as short back-up stories, like this one, five pages long. Of course all Silver Age and earlier comic art is rare...
Fan clubs wouldn't form until the 70's, creating greater access to collecting, though too much of the earlier art was already discarded/lost. This is particularly true of non-superhero..
Therefore, any one of the two pages above is rare and historic Marvel art and stands on its own merits, however, what is extraordinary about these two story pages is that the other three pages of this five page story may still exist! They did trade hands at Heritage Auctions in 2003 yes, in Heritage's infancy, when you could have bought a Jack Kirby Captain America #108 cover for 9K, or a Kirby interior page from X-Men #2 for 3K... These other three Strange Tales pages have not re-surfaced at heritage since 2003. Although we have all heard of comic and art collections being damaged or lost to flood, fire, etc. Hopefully those other three pages still survive (locked in someones private vault) and all pages of this story can one day be reunited!
Therefore, great if the owner of the other three pages is reading this, or if you know him or her please advise. This Strange Tales story is prophetic (as is almost all sci-fi) as the first sentence of the story mentions'Space Corps' and here we are 55 years after publication and our government is actually planning a'Space Force'! As for the title of the story "I Saw the Impossible World"...
Well, perhaps another 55 years from now one of our grandchildren will be on a 12 month Space Adventure... As the last panel of the story says... Please check out my other auctions for more great items. Item(s) are packaged well and insured.
Pasted here is Heritage Auctions description from the 2003 sale of the other three pages to the above story pages. Larry Lieber - Original Art for Strange Tales #112 Group of 3 pages (Marvel, 1963). Some of the funnest reading during the Marvel age was in the back-up stories. This story features a man that is either losing his mind or else he must find a way to explain the inexplicable.
Paul Reinman's bold inks really make the figures in this story stand out. This lot consists of pages 1, 3, and 4 of the story I Saw the Impossible World! These pages come to you directly from the collection of the artist himself. Here's your chance at getting a piece of Marvel history for the right price.
The item "Strange Tales #112 Original Art Larry Lieber Atomic Age Space Fantasy" is in sale since Friday, November 30, 2018. This item is in the category "Collectibles\Comics\Original Comic Art\Interior Pages".
The seller is "yestro" and is located in Katonah, New York. This item can be shipped to United States.
Country/Region of Manufacture: United States