WOLVERINE 14 ORIGINAL ART John Buscema 1st LOGAN IN COSTUME! 1989 X-Men SNIKKT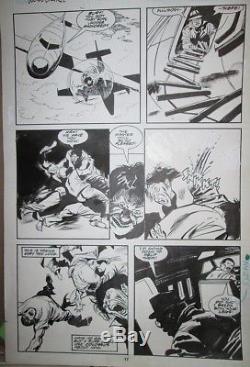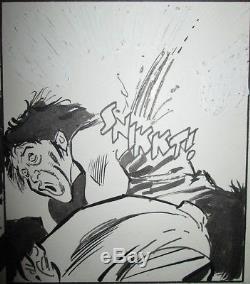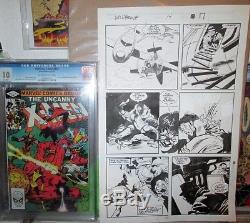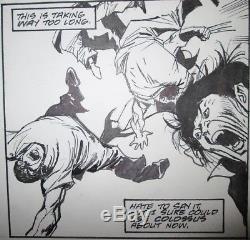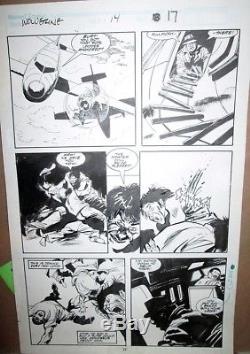 Original John Buscema Art To A Famous Wolverine Page From Marvel Comics. This Page Exhibits A FULL BLOODLUST MODE BATTLE TO THE DEATH, With The Coveted "SNIKKT" Panel, Depicting His Adamantium Claws Popping Out, Plunging Straight Through The Torso Of His Ba'al Adversary, And The Horrifying Death Gasp Of His Foe As His Life Is Cut Short By The Razor-Sharp Blades Is Shown In Graphic Detail. The Bottom Panel Shows Wolvie, In His Fan-Favorite Costume, Flinging And Slashing His Ba'al And Vampire Opponents As They're Battling Over The Gehenna Stone. This is the actual artwork for an early issue of the legendary long-running series, which began in the late eighties and lasted past the end of the century.
Classic depictions in these well-rendered panels, including the awe-inspiring hand-to-hand Wolvie combat aboard a plane in almost every panel, this showpiece. Original Pencils and Inks To An Eighties Wolvie Page! This series has always appealed to fans of the Marvel comics, especially X-Men fans, as well as those who like to see top icons by the artists that are among the most well-remembered for drawing the superheroes of the period. John Buscema And Bill Sienkiewicz Went On To Become Legendary Artists Of The Comics, Over The Decades Since They Created This Page Together!
Beautiful Clean Line Art To An Exciting Tale From The Legendary Artist Himself, Beloved By Silver-Age, Bronze-Age, And Copper-Age Marvel Fans Alike, John Buscema. RARE EIGHTIES WOLVERINE PAGE TO THE VERY FIRST TIME IN THIS TITLE THAT LOGAN DONNED HIS ICONIC WOLVERINE COSTUME! Great detail work, with quality renditions of the characters, and the tightness of the inks is impressive.
The originals to popular mutant issues of this beloved era are notoriously tough to get, and once one sells, it can be out of the market for decades. THIS ARTWORK IS SUPPLE AND CLEAN AND WELL PRESERVED, PLEASE SEE THE INCLUDED PICTURES. This original piece of comic illustration art would be a great addition to the collection of any fan of the unique original artwork to vintage comics.
A whopping 11" by 17", and most of it's image-area, so you can imagine that every individual figure is substantial. A conversation piece of the highest order, you'll want to have this one framed and displayed prominently. Much too large for our scanner, this jaw-dropper is almost a foot wide and more than a foot tall, so I took pictures with the digital camera. One picture shows the art alongside a random Xmen comic of the period for scale. The digital pictures make the piece appear dull and drab, when in reality it is clean and white and super nice in person.
This actual one-off item was created by JOHN BUSCEMA & BILL SIENKIEWICZ in 1989 for MARVEL Comics to produce the entertaining early Wolverine story. This gorgeous showpiece is the original, none of it is mere "stats" or photocopies except for the tiny story page number affixed in the bottom margin.
This is one-of-a-kind material which would be a great acquisition for any fan of the top superhero comics and magazines! Many of you have dealt with us through our ads in CBM, CBG, O. We are secure packagers and prompt shippers so expect to be pleased. This irreplaceable item is the only one of its kind... Great item for the serious Buscema buff, or just the art investor or Weapon X X-men memorabilia fan who enjoys owning true rarities to keep himself or herself satisfied visually, while keeping his/her portfolio diversified in a most impressive fashion!
As Usual: LOW ASKING PRICE AND NO RESERVE! KEY COMICS IS ALWAYS DEALING IN COMICS & ART! Good Luck and Happy Collecting!
The item "WOLVERINE 14 ORIGINAL ART John Buscema 1st LOGAN IN COSTUME! 1989 X-Men SNIKKT" is in sale since Thursday, September 28, 2017.
This item is in the category "Collectibles\Comics\Original Comic Art\Other Original Comic Art". The seller is "keycomics" and is located in Mesa, Arizona.
This item can be shipped worldwide.
Type: Original Comic Art
Publisher: Marvel Comics
Genre: Superhero
LARGE ART: Pencils & Inks
Publication Date: 1989
Series: First Ongoing Series
Issue Number: 14