1977 Mike Grell Green Lantern Green Arrow #96 Original Art Page Canary DC Comics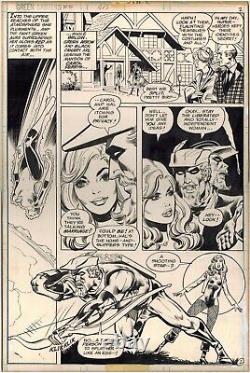 And check out OUR NEWLY LISTED ITEMS. This is an Original Art Page to a classic Bronze Age GL/GA page by the legendary Mike Grell, with great images of Green Arrow, Black Canary, and Katma Tui (including a killer splashy bottom panel with GA breaking into the first panel - we're wondering if that is time travel, or simply a truly brilliant page layout). From the great Dennis O'Neil story, How Can an Immortal Die? ", everything about this page is fantastic - the big vertical first panel of Katma Tui plummeting to the earth, the beautiful renderings of Black Canary, the action pose of GA, the dialogue between the characters, even the old people grumbling in the second panel: "In my day super-heroes kept their identities secret! The page seems to have been attached to a thicker backing board, but is not affected by that, and displays beautifully. But please note it seems to have been firmly attached, so the thick backing is likely not removable. There is also a piece of production tape at the bottom margin edge, and a tape stain mark in the top margin, as well as some general aging/discoloration around the edges, along with some use of whiteout throughout the page.
A really superb GL/GA page, from one of the best creative teams to work on the title. An absolute stunner of a page, if you were looking for just one perfect example for your collection, this is it! This is a classic example, and it goes without saying that vintage Grell GL/GA pages are highly sought-after. To get a piece of this quality is difficult, as they rarely appear on the open market, and once pieces go into collections they do not come out again. This is an exceptional and unbelievably rare piece of artwork, that would look amazing framed and prominently displayed, and would be a true key piece in any collection.
Check out our other auctions for more great items. Check it out, you'll be glad you did!