1977 SPIDERMAN vs DOCTOR OCTOPUS! SPIDEY SS #21 ORIGINAL ART PAGE MARVEL COMICS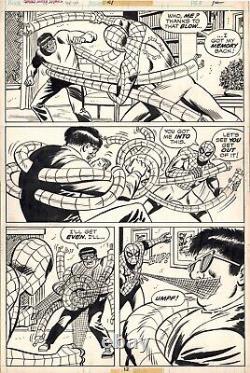 And check out OUR NEWLY LISTED ITEMS. This is an Original Art Page to a classic Bronze Age Spider-Man and Doc Ock faceoff, with great images of both Spidey and Dr. Octopus in every single panel!
It is Page 12 from Spidey Super Stories #21, published by Marvel Comics in 1977, with a 1976 date on the back. It is rare to find a Spidey and Doc Ock page from the 1970's, and this is about as good as you're going to find anywhere, with spectacular battle action as Spidey tangles with Doctor Octopus and his mechanical arms, ultimately tying them in a knot, webbing them up, and then webbing over Doc Ock's mouth in the classic final panel to shut him up! I can't recall another time before or since when Spidey webbed up a bad guy's mouth like that, but even if it's happened, good luck finding original artwork showing that!
The back of the page has what looks like some small printer ink stains, as well as what appears to be surface abrasions to the paper. A really superb page, if you were looking for just one perfect example for your collection to frame and put on the wall, this is it!
Dock Ock is one of Spidey's oldest and most classic villains, going all the way back to his first appearance in Amazing Spider-Man #3 in 1963. To get a self-contained battle page between the hero and villain this good is a rare opportunity, especially as it is the page that basically wraps up the story. This is a classic example, and it goes without saying that vintage Spiderman pages are highly sought-after. To get a piece of this quality is difficult, as they rarely appear on the open market, and once pieces go into collections they do not come out again. This is an exceptional and unbelievably rare piece of artwork, that would look amazing framed and prominently displayed, and would be a true key piece in any collection. Check out our other auctions for more great items.
Check it out, you'll be glad you did!