1986 American Flagg #33 Original Comic Art Page Splash First Comics Black Beaver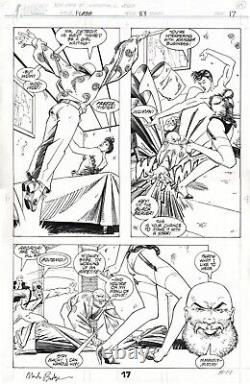 And check out OUR NEWLY LISTED ITEMS. This is an Original Art Page for American Flagg!
#33, published by First Comics in 1986. This is Page 17 from the issue, and is an awesome page with 2 huge splashy large vertical panels at the top, and a large panel at the bottom. It features great images and is both hilarious and action-packed at the same time!
It is done on official First Comics illustration art board which measures approximately 11" by 17". It has small pinholes on the middle left and right side edges, and also at the top middle and right side edges.
An outstanding page from the classic 1980's series. Don't miss out on this awesome Original Art piece, which would look fantastic framed and prominently displayed.
Check out our other auctions for more great items. Check it out, you'll be glad you did!