Amazing Spiderman Blank Sketch Silk Cover Ariel Diaz Commission Marvel Comics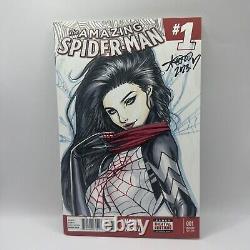 For all Marvel and Spider-Man fans out there, this one's for you! Up for sale is a unique and one-of-a-kind Amazing Spider-Man blank sketch Silk cover, signed by the talented Ariel Diaz. This beautiful piece of original comic art features Silk, a beloved character in the Spider-Man universe, and is a must-have addition to any collection.
The artwork is done in a modern style, with great attention to detail. This commission piece is in excellent condition, with no signs of wear and tear. It would make a great addition to any collection or a wonderful gift for a fellow comic book collector.
Don't miss out on this opportunity to own a piece of Marvel history!