Extreme Justice #10 page 13 original comic art by Al Rio, 1995, DC Comics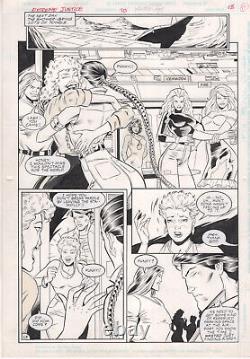 Extreme Justice #10 page 13 Original Art by Al Rio - 1995. 11"x17" on art board.
Please see my other auctions for other original art. It has a few paste-overs as you can tell by this very raw but natural scan. This page features the characters Icemaiden (JLA member meta-human who can project ice and snow from her body), and Fire (Brazilian mystic). Extreme Justice was formed by Captain Atom as a pro-active attack on the dark forces. Álvaro Araújo Lourenço do Rio (19 May 1962 - 31 January 2012) - known professionally as Al Rio - was a Brazilian comic book artist, best known for his "good girl" illustration work, particularly on the American comic book series Gen¹³ and DV8, published by Wildstorm Comics.
Check out my entire store for more great art!