Frank Frazetta Original Art for Edgar Rice Burroughs Chessmen of Mars 1973 NR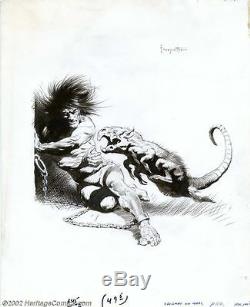 Please scroll down to see all pics... This Frank Frazetta illustration was done for the Edgar Rice Burroughs Chessmen of Mars novel that was published in 1973 under the Doubleday company. This is the hero in the novel, cousin to John Carter of Mars, Turan. Turan got captured and his persecutors are trying to terrorize him by letting loose a ferocious creature on Mars known as the Martian rat. An energetic illustration from the brush of Frank Frazetta for the 1973 Doubleday Book Club publication of Edgar Rice Burroughs' Chessmen of Mars (used on page 238).
The drawing captures all the fantastic intensity that Frazetta is world-famous for. The hero's face contorts into a barely-human snarl as he confronts the attacking Martian creature. His head wildly turns and hair violently swirls as the ferocious confrontation occurs.
Note the counterbalancing forces at work in this virtuoso drawing as Frazetta artistically balances the savage charge of the creature with the hero's hand braced against the wall and the toes of his foot riveted to the floor. His hand is braced to ward off the charge. The feral intensity of the Martian rat is perfectly matched against the angered, blood-infused muscularity of the hero. The crosshatching is strategically placed to give the suggestion of a black, lightless chamber. The brushwork on this illustration is simply sublime, and it represents Frazetta's strongest period of work for the Doubleday company. It is a simple drawing that is brilliant in execution and captures the total essence of the text and makes it even better -- a beautiful horror that captures the eye and delights the mind. Measuring approximately 11.5" x 14" overall, with an approximate image area of 9.5" x 8", the piece is in excellent condition and is signed by the artist in the upper right. The second pic is how it looks on my wall. The third pic is how it looks in the book and the 4th pic is the cover of the novel.
The item "Frank Frazetta Original Art for Edgar Rice Burroughs Chessmen of Mars 1973 NR" is in sale since Wednesday, August 24, 2016. This item is in the category "Collectibles\Comics\Original Comic Art\Covers". The seller is "bellyrubbandit" and is located in Miami, Florida. This item can be shipped to United States.