Ghost Rider #31 art by Don Perlin Ghost Rider vs The Bounty Hunter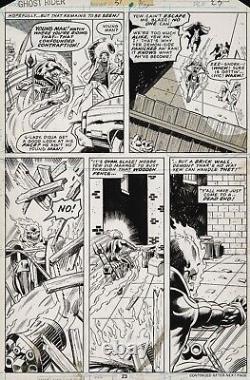 ARCHANGELS is a company based in God's Country (beautiful sunny Southern California), dealing in Rare and Unique Paper Collectibles. We specialize in vintage Comic Books, Original Comic Book Artwork, Hollywood Movie Posters and other related items as well.
We are Senior Advisors to the Overstreet Comic Book Price Guide and a Charter Member Dealer with the Comics Guaranty, LLC (CGC). For other wonderful items, make sure to visit us at our About Me Page. Ghost Rider #31 art by Don Perlin. This wonderful piece gives new and fresh meaning to the cryptic term, Riders on the Storm! Original artwork for Ghost Rider Vol.
2 #31 page 23 (Marvel Comics, 1978), by the talented team of Don Perlin (pencils) and Bob Layton (inks). From the epic four-part tale, this issue's story is entitled, "Demon's Rage" and features Ghost Rider (Johnny Blaze) fully engaged in a desperate chase as the enigmatic and hellish Bounty Hunter (Lemuel Haskil - a dammed ghost from the 19th century) is riding hot on his heels, hunting his soul for the devil himself. This outstanding page features Ghost Rider tearing into a dead end alleyway on his flaming motorcycle in every panel.
This gripping four-part saga, which ran from Ghost Rider #29-32 (Marvel Comics - April-October, 1978), was one of the best Ghost Rider adventures of them all. A real pity that Marvel never fully developed and utilized the Bounty Hunter to his full potential - an intriguing and worthy adversary for any hero. Dark dynamic drama in the Mighty Marvel Tradition - Just the Way You Demand it!