Harley Quinn Sketch Cover By Alex Kotkin CGC 9.8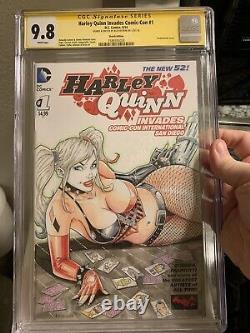 This amazing sketch cover features the infamous Harley Quinn as drawn by the talented illustrator Alex Kotkin. The comic is from the Modern Age of the DC Universe and has a certified grade of CGC 9.8. It's a highly collectible item for any fan of Harley Quinn or DC Comics in general. The cover is perfect for framing and displaying in your collection.
Don't miss out on the chance to add this stunning piece of original comic art to your collection!