Infinite Crisis Tom Derenick Original Art Splash Page Zatanna Doomsday Flash +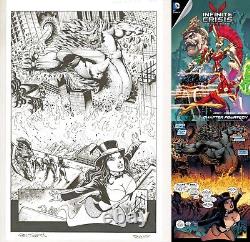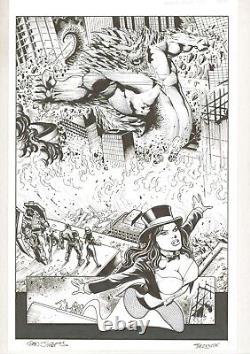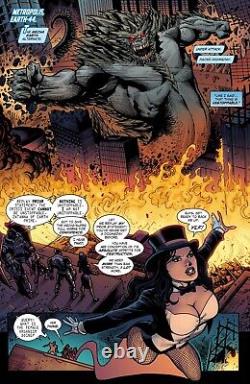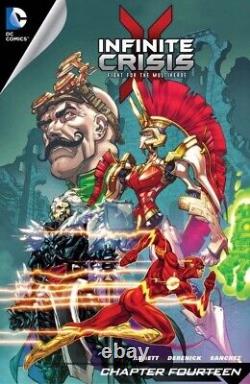 This stunning page features the pencils and inks of Tom Derenick with story by Dan Abnett. Featuring a great image of Doomsday from Earth-13, it is from. Infinite Crisis: Fight for the Multiverse #14.
In addition to Doomsday, the page features Zatanna, Flash, Cyborg, and Mecha Superman. It is signed by not only Derenick but also Dan Jurgens, creator of Doomsday. Please note, this is an actual, original piece of art drawn by hand by Derenick. It is not a copy, print or pre-printed image. It is a one-of-a-kind original!
Please note, the cover and an actual image of the colored page as it appears in the published comic is shown for reference but the comic book itself is not included in the listing. Again, they are shown for reference only - the listing is for the original artwork only. In his own artistic process, Derenick digitally creates a loose preliminary outline sketch (essentially a rough by computer of where he wants to go with the image) and from preliminary design he completes the illustration - by hand - tightening it up as he traditionally inks the final image as it appears in the completed comic. So this is the one and only piece of original artwork- unlike traditional bluelines, there are no separate pencils.
This is the only original piece of art for the final image. It is autographed by Derenick. Credited as a penciller, colorist, inker, layout, and finisher, artist Tom Derenick began his career in 1992 at Malibu Comics and.
Is best known for his DC Comics work - his first published work for the company was Star Trek - and he went on to illustrate such characters as Wonder Woman, Batman, and the Justice League. Most recently, he has been working for DC on titles like He-Man and the Masters of the Universe, Infinite Crisis: Fight for the Multiverse, Injustice: Gods Among Us, New Suicide Squad, Red Hood and the Outlaws and Convergence: Justice Society of America as well as. DC's line of exclusive comics for Wal-Mart. His Marvel work includes Wolverine, Captain America, Cable, X-Men, and others. Excepting pack-pulled autograph trading cards, CGC Signature Series, signed Sideshow prints, and like collectibles, all autographed items Vault Collectibles sells were personally witnessed, by myself, being signed by the writer, artist, or celebrity in question.
No third party is involved. Further, art sketches - and most published original art I sell - were obtained directly from the artist themselves. For buyers desiring this guarantee in written form, this statement guarantees that the above-referenced item is as stated in the listing description.
As this serves as written proof of said guarantee, no physical documentation will be included in the package when the item is mailed.