John Byrne Does Thor For Dc! Jack Kirby 4th World Original Art Page 2/3 Splash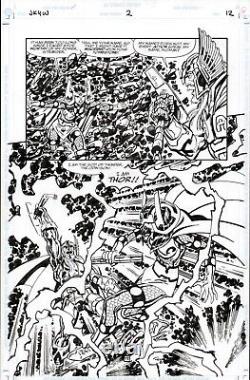 And check out OUR NEWLY LISTED ITEMS. This is an Original Art Page for Jack Kirby's Fourth World #2, published by DC Comics. The art is by the legendary John Byrne, and is one of the most spectacular and most unique Byrne pieces you're likely ever going to find! John Byrne did some cool things with the Fourth World, notably to me taking a mythological character identified with Marvel, and using said character in the D. Big Barda apparently doesn't read any Marvel stuff (or, um, books), since she asks for the stranger's name, so that she might have it inscribed upon his tombstone.
Byrne is a true legend spanning more than 4 decades in comics as both a writer and artist, and is known for his classic runs on the Uncanny X-Men, the Fantastic Four, Alpha Flight, and She-Hulk, as well as for revamping the Man of Steel during DC's overhaul of the Superman character in the 1980's. His art is highly-sought after, and memorable frame-worthy splashy images are particularly hard to find. Byrne pieces at this level rarely surface for sale, and once pieces go into collections they do not come out again. With Byrne covers out of reach for most collectors, don't miss out on a rare chance to get a classic Byrne piece at a price below five figures. Please also note this is 100% Byrne, as he did the script, pencils, and inks.
This is a pretty rare opportunity, so don't miss out on a chance to get an outstanding piece of artwork that would look fantastic framed and prominently displayed, and would be a key piece in any collection. Check out our other auctions for more great items.
Check it out, you'll be glad you did!