JOHN BYRNE NEW MUTANTS #75 p13, 1989, BOB McLEOD, FULL TEAM HALF SPLASH, SIGNED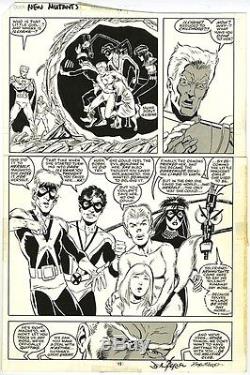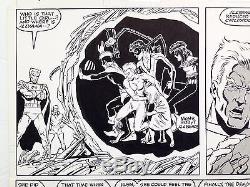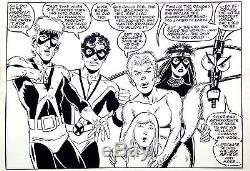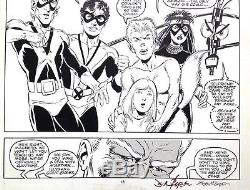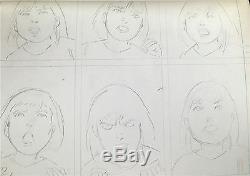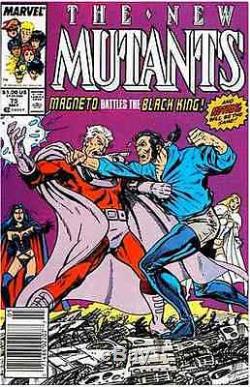 KEY PAGE from the Only NEW MUTANTS issue penciled by legendary X-MEN artist John Byrne. Inked by The New Mutants co-creator Bob McLeod, and signed by both Byrne and McLeod! A real climax - his one-of-a-kind page brings all of the characters together: CANNONBALL (Samuel Guthrie) SUNSPOT (Roberto da Costa) WOLFSBANE (Rahne Sinclair) MAGIK (Illyana Rasputin) MIRAGE (Psyche) (Dani Moonstar) and WARLOCK, as well as two of the biggest vilains in the X-Universe: MAGNETO and Hellfire Club's SEBASTIAN SHAW.
All on one single page. Page is great, central panel is awesome. Don't miss out on this important piece by John Byrne and Bob McLeod, with the whole New Mutants team saying no to Magneto, protecting Illyana, reversed to childhood, yet finally freed from Belasco's evil realm. This page depicts a crucial moment in mutant history. The New Mutants are back from Limbo with Ilyana, who has reverted to childhood, and they are now confronting their teacher Magneto in this 1989 classic half-splash page by John Byrne. This is the only New Mutants issue he did for Marvel after his legendary Uncanny X-Men run with Chris Claremont - it has been said he only accepted to pencil it once he was assured he would be able to show the return of Magneto's evil nature. Evil Magneto, the way John Byrne had always seen him. The page is also beautifully inked by Bob McLeod, who created the New Mutants team together with writer Chris Claremont. In this key story,'King of the hill', Magneto, who had taken over the guidance of the New Mutants from Professor Xavier, is finally opposed by his students: they have realized at last that Magneto's motivations were not as pure as he had first claimed. This very page marks the turning point in the relationship between the New Mutants and Magneto, as well as the return of Illyana. John Byrne is one of the most popular comic artists, and certainly one of the most popular creators to have ever worked on the X-Universe.
Magneto has long been the X-Men's most popular villain and Byrne's take on the character is among the most coveted. 1980s pages by Byrne are scarce and sought after by comic art collectors worldwide. And this page has it all.
The art has an image area of approximately 10" x 15". It is signed both by John Byrne and Bob McLeod, in the lower margin.
The central half-splash and the final panel have been drawn on another board which was pasted on the initial board with the top 2 panels. On the initial board underneath the 3rd and 4th panels are a series of 6 pencil character studies of Ilyana's face and expressions by John Byrne. Board was trimmed at the top, outside the image area, and there's a slightly yellowed glue tape on the right, which also is outside the image area. He art is in overall Excellent condition. By JOHN BYRNE & BOB McLEOD.
Is just a true piece of Marvel history. Et nous parlons le français bien sûr! We're actually also very fond of learning other words & expressions from Everywhere around the Globe, like. So please do feel at Home while checking out our original comic art listings.
Till the end of 2016. We'll be listing on. Our AUTUMN 2016 Auctions will. Feature a Lot of Beautiful Art.
Including Original Comic Art by some of the most beloved and sought-after Comic Art Masters. Peter BAGGE - Simone BIANCHI - Simon BISLEY.
Sean CHEN - Dave COCKRUM Gene COLAN. Alan DAVIS - Gabriele DELL'OTTO - Mike DEODATO Jr. Mike DOCHERTY - Kevin EASTMAN - Mark FARMER. Ron FRENZ - Ron GARNEY - Dick GIORDANO - Dan GREEN.
Mike GRELL - Jaime HERNANDEZ & Gilbert HERNANDEZ. Gil KANE - Milo MANARA - Gray MORROW Jerry ORDWAY - Mark PENNINGTON - Carlos PACHECO - Tom PALMER George PEREZ - Keith POLLARD - Dan REED - Tom RICHMOND John ROMITA, Sr.
Bart SEARS - Marie SEVERIN - Joe SINNOTT. Herb TRIMPE - Tim VIGIL - Al WILLIAMSON. Additional info - Terms and Conditions.
If you have any question, Please Ask. Will be glad to get back to you within 24 hours.
Thunderstorm, heatwave, post office piling competition... Harms your item on its way to you.
From the very best to the'not-that-good', and have learned from it. We'll always do our very best to get your art delivered in the safest and fastest ways possible. From Paris, France, where most of our items are currently located.
Other destinations worldwide may sometimes take just a little longer, depending on the local carrier. Remise en main propre possible sur Paris. Ou Win more than one item.
And Remember: We only sell Art We Love. < and also by LIKING our FACEBOOK page. The item "JOHN BYRNE NEW MUTANTS #75 p13, 1989, BOB McLEOD, FULL TEAM HALF SPLASH, SIGNED" is in sale since Friday, November 04, 2016. This item is in the category "Collectibles\Comics\Original Comic Art\Splash Pages". The seller is "makimarasu" and is located in Paris.
This item can be shipped worldwide.
Signed: Yes
Country/Region of Manufacture: United States
Pencils: JOHN BYRNE
Inks: BOB McLEOD
Characters: CANNONBALL (Samuel Guthrie)
Characters II: SUNSPOT (Roberto da Costa)
Characters III: WOLFSBANE (Rahne Sinclair)
Characters IV: MAGIK (Illyana Rasputin)
Characters V: MIRAGE (Psyche) (Dani Moonstar)
Characters VI: WARLOCK
Villain: MAGNETO
Villain II: SEBASTIAN SHAW / HELLFIRE CLUB
Year: 1989
Publisher: Marvel Comics