Last page of Conan on Marvel Comics by Carlos Magno pencil and ink Issue#5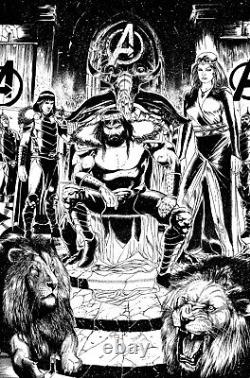 Rare and Epic: Original Artwork of Conan the Barbarian in the Final Series of the Savage Avengers! Get ready to acquire a true masterpiece from the Hyborian Age! Carlos Magno, the official artist of Marvel Comics, presents the last original artwork of Conan within Marvel Comics. This is a unique and exclusive opportunity for true fans and collectors of the most iconic Cimmerian of all time! Written by the renowned David Pepose and meticulously illustrated by Carlos Magno, the fifth issue of the final series of the Savage Avengers marks the end of an era!
This exclusive artwork captures the raw essence and indomitable strength of Conan, depicting him in all his glory and bravery. Every stroke, every detail comes to life in this magnificent piece, forever preserving Conan's unmatched presence in the Marvel Universe. A work of art that conveys the untamed spirit and boundless energy of everyone's favorite barbarian! Perfect for Fans and Collectors. Whether you're a true fan of Conan, a comic book enthusiast, or an art collector, this original artwork is an unmissable item for your collection!
It will be the absolute highlight in any setting, showcasing the legacy and lasting impact of this iconic hero. Don't miss the chance to own a piece of Marvel's history! This is a one-of-a-kind opportunity to acquire the last original artwork of Conan within Marvel Comics.
Be among the lucky few to have in your hands a piece that celebrates the end of an era and the greatness of this legendary character! Don't let this opportunity slip away! Act fast before it's too late, as this item is sure to be sought after by fans and collectors worldwide! Acquire this original artwork of Conan and keep the memory of the legendary Cimmerian alive in the Hyborian Age of Marvel! This amazing art includes the original pencils and original inks.
We have other pages from same comic art. Thank you for taking the time to view my items (s), pictured is the exact item(s) you will receive! If you have any questions and/or concerns please do not hesitate to ask. We will do our best to make sure you are 100% satisfied. All the items we swell are professionally graded.