Moon Knight original comic art Joaquin Rodriguez Ramal Absolutely stunning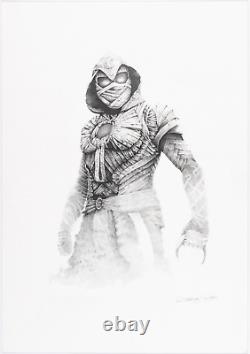 If you haven't seen Joaquin Rodriguez Ramal's art before, you're missing out. Inspired by Wrightson, Frazetta, and other legends, Ramal is a true master. The amount of detail and realism in this Moon Knight piece is amazing. Picture can't do it the justice it deserves.
This is a truly stunning piece, every bit as impressive as the legends in the industry. Pure graphite on over-sized 14 x 20 waterboard, with an image size of 9 x 13.5. Signed at the lower right.