Moscow Dave Pether original art book cover Theodore Plievier 1974 cond issues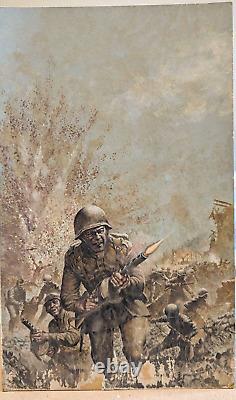 Every summer I come up with items that are distinctly different - in some way - from my usual offerings of one-of-a-kind original published illustration artworks in the science fiction, fantasy or horror genre. This summer I'm going to be listing a variety of genre-related "collectables" and "ephemera" that just don't fit into my usual categories - some of them beautiful, some of them weird - all of them at insanely low prices.
This is listed in Pether's files as "Moscow" by Theodore Plievier, and as published by Mayflower 1974, but I'm not sure if it was used. Handpainted in gouache and (believe) egg tempura on illustration board, 14" x 8.5", and carries a label on the reverse attesting to authenticity, signed by Pether's widow. As you can see, this is another vintage painting that appears to have been nibbled by mice at the bottom and (can't be seen) a bit of warping to the board from storage. Yes, this can be cropped and "made whole" but smaller (or restored via painting) and yes, illustration board is easily flattened by weighting.
BOTH steps however are an excellent project for the new owner, and because I believe this is an image worth preserving. I have priced it so that all these things will be possible. NOTE: No rights of reproduction accompany the sale. For other choices in illustration art you can also visit the Worlds of Wonder website and browse our online gallery of illustrative art!