Original comic art interior pages Tmnt Jim Lawson Donatello Page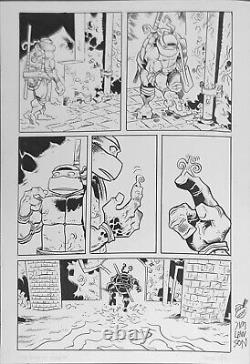 For sale is an exceptional piece of original comic art featuring Donatello from the Teenage Mutant Ninja Turtles. This interior page by Jim Lawson is a true gem for any collector of comic book memorabilia. The artwork showcases the beloved character in action, and the attention to detail is evident in every stroke of the pen. Also signed by Jim Lawson and it was acquired directly from Jim at ICCC Convention in Nashville in 2022. This original piece of art is a must-have for any fan of the TMNT franchise, and would make a perfect addition to any collection of comic book art.
Don't miss out on this opportunity to own a piece of pop culture history!