Phoenix Vs 6 Spideys! Spiderman X-men #4 Original Art Page Splash Marvel Comics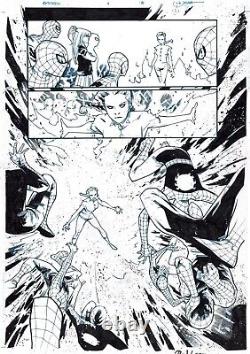 And check out OUR NEWLY LISTED ITEMS. This is an Original Art Page to Spider-man and The X-Men #4, published by Marvel Comics. This is Page 16 from the issue, from the great series written by former Daily Show head writer Elliott Kalan.
This is an awesome almost full page splash image with Phoenix ("DON'T CALL ME PROFESSOR GREY") blasting six Spider-men in Spidey's psyche! I believe this is inks over blueline pencils. The page measures approximately 11 3/4" by 17". The page extends a bit further on bottom than what is shown, as it got cut off in the scanner.
This is a truly great page, with large splashy images and straight-on character views, jam-packed, without being overwhelming, perfectly rendered, and a perfect display piece. This is an amazing piece that would look fantastic framed and prominently displayed, and would be a great addition to any collection. Check out our other auctions for more great items. Check it out, you'll be glad you did!