Ramona Fradon Original Art Cover Recreation Brave & The Bold #57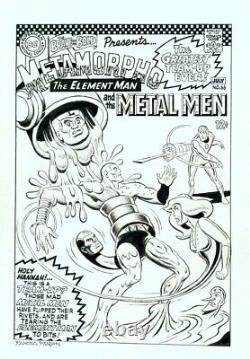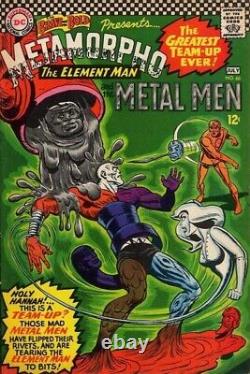 This stunning original art features a hand-drawn recreation of the classic cover. The Brave and the Bold. #66 (which was originally released June/July 1966).
The recreation is drawn by hand by the original cover artist of the issue, Ramona Fradon (co-creator of Metamorpho). #66 was the first comic book to team Metamorpho with The Metal Men, whose powers were similar to the Element Man's own. Prior to this issue and other than his own title and original intro in B&TB #57 and #58, Metamorpho had appeared in two issues of Justice League of America.
This is his eleventh appearance overall and his tenth cover. Please note- this is an actual, original piece of art illustrated by hand by Fradon and is also signed by Fradon.
It is not a copy, print or pre-printed image. It is a one-of-a-kind piece of original art that recreates her classic cover to. Nd all of it is done by hand- the artwork, title logo, lettering, etc.. There are no stats on the piece. Shown for reference - it is not included with the listing, the listing is for the original artwork only - is the original color cover to.
Again, it is shown for reference only. One of the first women to break into the comics business, Ramona Fradon (1926 -) is best known for her work on the. Comic strip as well as co-creating both Aqualad and Metamorpho during the Silver Age. To fans of her artwork, she is known for her lush pencil work, most evident in commissions and both individual and group character studies.
These recent works reveal an artist at the height of her craft despite having been "retired" for nearly two decades. Fradon started working for DC Comics in 1950, illustrating. Before landing her first regular assignment illustrating Aquaman in. She went on to co-create Metamorpho (one of her personal favorites) and to pencil DC's comic adaptation of the popular.
Cartoon for nearly its entire run. House of Mystery, Superman, Batman, and Plastic Man.
(another of Fradon's favorites) for DC as well as. Upon Dale Messick's retirement from the. Newspaper strip in 1980, Fradon took over and continued the strip until her own retirement in 1995. Fradon is a graduate of Parsons School of Design, widely regarded as one of the most prestigious art and design universities in the world.
She is a recipient of the Eisner Lifetime Achievement Award, an Ink Pot award, and was inducted into the Women Cartoonists Hall of Fame in 1999 and the Comic Book Hall of Fame in 2006. Excepting pack-pulled autograph trading cards, CGC Signature Series, signed Sideshow prints, and like collectibles, all autographed items Vault Collectibles sells were personally witnessed, by myself, being signed by the writer, artist, or celebrity in question. No third party is involved. Further, art sketches - and most published original art I sell - were obtained directly from the artist themselves.
For buyers desiring this guarantee in written form, this statement guarantees that the above referenced item is as stated in the listing description. As this serves as written proof of said guarantee, no physical documentation will be included in the package when the item is mailed.