Supergirl 14 Original Art Page Leonard Kirk Bluelines Peter David Story DC Comic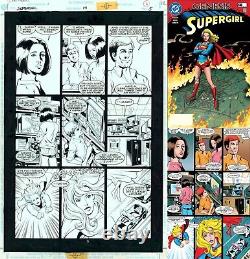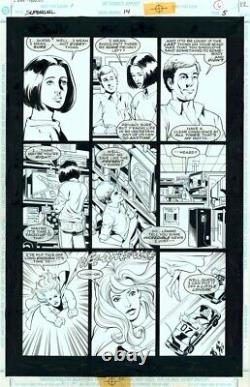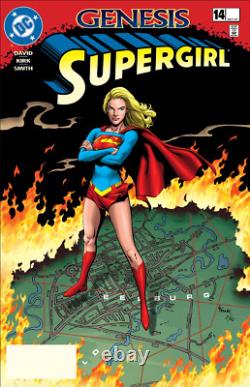 Featuring the bluelines (see below for information about bluelines) of Leonard Kirk with the original inks of Cam Smith, and story by fan-favorite comics scribe Peter David, this page features Linda Danvers as she makes a quick exit to become Supergirl. Please note- this is the actual, finished piece of art used in the production of the comic. It is bluelines (again, see below for further info on what bluelines actually are) and is a one-of-a-kind original. Also shown in the above scans are the cover of the book this page appears in as well as the finished, colorized page. But please note that it is shown for reference only.
The book itself is not included in the listing. The listing is for the page only. Given today's technology, many comic industry professionals are moving away from penciling pages and then having the inker ink the original pencils themselves.
It's becoming more and more common. Some pencilers even do their work digitally, so there are no original pencils at all.
That said, bluelines are the completed, finished pieces of artwork that are used to create the finished comic book. So they are still one-of-a-kind pieces of artwork and they are the final artwork as it appears in the completed comic. Excepting pack-pulled autograph trading cards, CGC Signature Series, signed Sideshow prints, and like collectibles, all autographed items Vault Collectibles sells were personally witnessed, by myself, being signed by the writer, artist, or celebrity in question. No third party is involved. Further, art sketches - and most published original art I sell - were obtained directly from the artist themselves.
For buyers desiring this guarantee in written form, this statement guarantees that the above referenced item is as stated in the listing description. As this serves as written proof of said guarantee, no physical documentation will be included in the package when the item is mailed.