Superman Wonder Woman 1996 DC Comics Trading Card Original Art Page Pinup Splash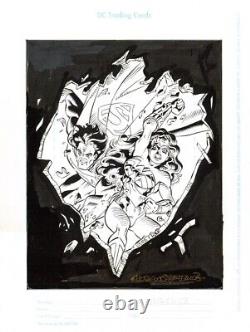 And check out OUR NEWLY LISTED ITEMS. This is an Original Art Page for a D.
Trading Card from 1996, featuring Superman and Wonder Woman smashing right out at you! It is a fantastic splash image with The Man Of Steel, together with one of the other first and greatest superheroes in D. Comics, who is of course also the greatest female hero in comics history, and has only continued to grow in popularity since the blockbuster movies starring Gal Gadot. It is rare to find a Supes and WW team-up piece this good, as they very rarely become available. The page is on standard DC Trading Cards bristol board measuring approximately 9" by 12".
This is an amazing piece of artwork for any SM or Wonderwoman fan, that would look fantastic framed and prominently displayed, and would be an outstanding addition to any collection. Check out our other auctions for more great items. Check it out, you'll be glad you did!