Tales of Suspense #45 classic & early Iron Man twice-up original art page 1963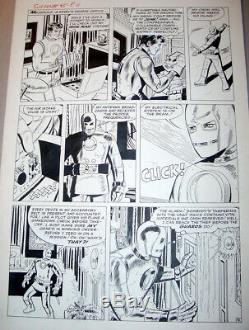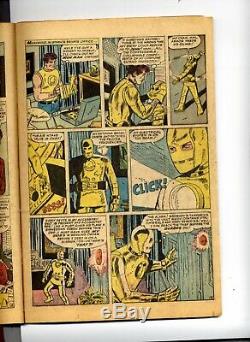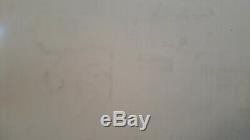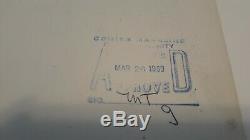 This is a great and very early Iron Man page (dated March, 1963) that serves as a recap, or summation, of the character, for the audience. Tony Stark is talking to himself, and the audience, as he puts on his suit and does a check of its capabilities.
And even telling himself (and the audience) how he uses the suit to fight bad guys. Basically, he's summing up his character for first time readers.
And it's all here in one piece that not only looks cool on a wall but speaks for itself without feeling, as most pages do, that you're seeing a partially-expressed moment or concept. The art was drawn by Don Heck, who was the first artist on the series and is listed as a co-creator on the Marvel (MCU) films. So perfectly does this sum up Iron Man that this page was selected by the producers of the first Iron Man cartoon, in 1966, to serve as an intro to the character near the beginning of the first episode. (You can see it on youtube if you type in Iron Man cartoon season 1 episode 1, about 2 minutes in). Note that Tony is wearing the first iteration of the Iron Man suit. Although he had painted gold over the original grey metal, the suit itself is the original version. Soon after, the suit itself was redesigned. So, all examples of original art with the original suit are rare. And outside of the origin story, this is the one that best "sums up" Tony and his alter ego. And it does it all in one self-contained page. Because of the content, I priced it a bit higher than I would an average Don Heck Iron Man page, but far less than a splash page (even with lesser image content). I've seen other examples recently that show appreciation for his work is increasing. It has been undervalued for a while.
Heck was one of the key figures of the early Marvel age, and many haven't realized that he was the first artist, and effectively a co-creator, of Iron Man. This is a scarce example of the very few pages drawn with the first version of Iron Man's suit. Of all the Iron Man pages drawn over the last 57 years, only about a hundred or so original art pieces were created showing Iron Man in his armor before he remodeled it (and it's not known how many of those pages still exist). Since his adventures began in #39 this is only his seventh appearance, created so early the art itself is dated the same month as the newsstand comic (though it was published earlier). Board measures 13 1/2" x 19 1/2" and image area is 12" x 18".
Board is not toned, very white, in excellent condition and clean overall, except for graphite smudging in some areas on the back (pictured, per request). Comics code date stamp is March 26, 1963. A scan of the page as published is included among the pictures.
I will also include a respectable copy of the published comic book, and a video file with the 1966 cartoon which animates this page. Obtained this art a number of years ago from one of the largest dealers in comic book original art, who had obtained many of the pages from this issue, perhaps all of them.
Any reasonable back-up material will be provided and this piece, along. The item "Tales of Suspense #45 classic & early Iron Man twice-up original art page 1963" is in sale since Wednesday, November 27, 2019. This item is in the category "Collectibles\Comics\Original Comic Art\Interior Pages". The seller is "comix4college" and is located in West Hills, California.
This item can be shipped to United States.