The Mighty Crusaders #2 Original Comic Art Page 5 Splashy Artwork DC Comics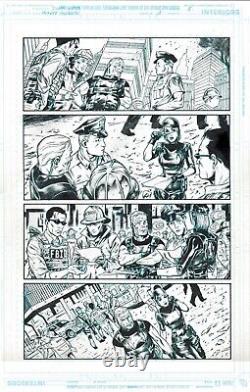 And check out OUR NEWLY LISTED ITEMS. This is an Original Art Page to The Mighty Crusaders #2. This is Page 5 from the issue, and this great page features outstanding images with large splashy panels. I believe this is inks over blueline pencils. Please note there is a bit of an ink splotch in the agent's hair near the right side edge of the second panel.
This does not appear to be damage, but rather the way the page was inked. It doesn't really show in the scan, but when you hold the page at an angle, you can see some shininess. A great page from an outstanding series that would look fantastic framed and prominently displayed, and would be an excellent addition to any collection.
Check out our other auctions for more great items. Check it out, you'll be glad you did!