Thomas Tom Scioli Captain America Original Art Sketch. Marvel Godland Kayfabe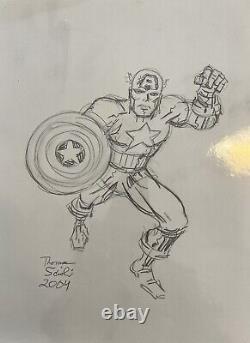 Original con sketch of CAPTAIN AMERICA by Thomas'Tom' Scioli from Cartoonist Kayfabe, Myth of 8-Opus, Godland, American Barbarian, Fantastic Four Grand Design and many more. From 2004 at a local con in the NJ/Philly area.
This is an incredible piece of original art featuring the iconic superhero Captain America. Created by renowned Marvel illustrator Tom Scioli, this drawing captures the essence of the character in stunning detail. The piece is inscribed and comes from the modern age of comics, specifically Marvel's MCU universe. The artwork is an original and licensed reproduction, making it a must-have for any serious collector of comic books and memorabilia.
With its unique style and attention to detail, it is a true testament to the skill and talent of the artist. This Thomas Tom Scioli Captain America Original Art Sketch is a rare find and a treasure for any fan of the Marvel universe.