TOPOR. Dessin original pour La Planète Sauvage de Laloux. Encre de Chine. (B/40)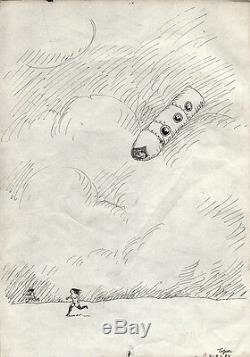 Encre de Chine sur papier pour un dessin préparatoire du film de René Laloux "LA PLANETE SAUVAGE". Format 21 x 29,7 cm, signé TOPOR en bas à droite et daté 4.9.74. Bonne conservation (une minime écorchure en bas au centre) - Envoi Lettre recommandée. LIBRAIRIE ROLAND BURET - 6 PASSAGE VERDEAU 75009 PARIS. Notre engagement : Les objets envoyés sont toujours ceux de la photo - Notre description est sincère et fidèle - Nous acceptons sans discussion les retours effectués dans un délai de 7 jours après réception - Les envois sont effectués sous protection professionnelle : bulle + carton fort.
Nous pouvons regrouper les achats effectués dans une même semaine - Vos achats peuvent être mis à disposition à notre librairie dans un délai de 2/3 jours - Les frais d'envoi comprennent le port et l'emballage. NE PAYEZ PAS LES FRAIS D'ENVOI EN VENANT CHERCHER VOS ACHATS A LA LIBRAIRIE.
Librairie Roland Buret, 6 passage Verdeau 75009 Paris. Ouvert du mardi au vendredi de 12h30 à 18h30 et le samedi de 13h00 à 18h00. 01 47 70 62 99 - Fax. 01 42 46 00 75.
L'outil de mise en vente gratuit. Mettez vos objets en vente rapidement et en toute simplicité, et gérez vos annonces en cours. Dessin original pour La Planète Sauvage de Laloux. (B/40)" is in sale since Monday, April 9, 2012. This item is in the category "Livres, BD, revues\Bandes dessinées, comics, produits dérivés\Illustrations, planches originales".
The seller is "bdverdeau" and is located in Paris. This item can be shipped worldwide.